Chris Bearchell's Camp Swampy
Some Background History

In early January 1995, Chris Bearchell and Andy Sorfleet set out from Toronto in a 1981 Ford 3/4-ton van (named "Velveeta") with a U-Haul trailer and her ancient cat, Micah to pursue Chris's long-held dream — to buy land and retire in the woods on Lasqueti Island, BC. Braving Canada's harsh winter roadtrip conditions, they took ten days to finally arrive in Vancouver.

Chris Bearchell poses on the Lasqueti Ferry Dock in French Creek. PHOTO: Jim Monk, Spring 2004
Once on Lasqueti Island, Chris rented the Gate Cabin at the Teapot House and began investigating buying property. Eventually, Chris (and Tim Potts) purchased an undivided quarter share of the southwest quarter of Section 20 from Corinne Mol in 1996. By this time, Chris' and Tim's desired homestead site was unanimously approved by the property Co-Owners. In summer 1997, Chris built a traditional log logging bridge over Lenfesty Creek. Then she built the road continuing from the shared roadway that ended at Lori Ray's homestead, all the way to the east border of the property — to the agreed-upon five-acre homestead area for Bearchell's and Potts' quarter share.

Chris and Don Macdonald finish the deck on their traditional log logging bridge. PHOTO: A. Sorfleet, August 1997
Chris and her friends (Andy, Will and Amber) salvaged building materials for her home in exchange for demolishing an abandoned house, until Chris discovered a lump in her breast. She was forced to postpone her dream home project in 1999 to undergo surgery and treatment for breast cancer. Chris was still determined, however, to move to her new homestead to be. And, in 2000, she did just that. Chris moved a small trailer to her house site to live in and slept in a tent outside (through the winter), while she constructed her small one-room house, with help from hired builder, Gillan Kemp.

Chris's perseverance and hard work resulted in what became known affectionately as "Camp Swampy." In the years that followed, Chris continued to develop her homestead, adding amenities and improvements which included: a woodshed, outhouse, gravity-feed utility water supply, solar electrical system, root cellar, fencing and gardens — while she also entertained many friends and guests from both near and afar.

Chris Bearchell at home in the great outdoors at Camp Swampy. PHOTO: Jim Monk, Spring 2004
In October 2003, however, Chris was again diagnosed with breast cancer — in her lungs. Chris became fully focused on emerging cancer treatment research and alternative therapies. She soon became well known among other cancer patients as an extremely knowledgeable and resourceful advocate. Sadly, Chris Bearchell died from complications from breast cancer in February 2007. Reports of the death of this once fierce and influential gay activist echoed throughout Canada and the world.

This 1984 portrait of Bearchell was added to the Canadian Lesbian And Gay Archives in 2003 in recognition of her lifetime of contributions to queer rights. PHOTO: Konnie Reich, 1984
In her Last Will and Testament, Chris left her share of the land and her home to Will Pritchard, who she trusted to take over stewardship of Camp Swampy — hoping it could remain a resource, shared by her many friends who helped make her dream home come true. Welcome to Camp Swampy!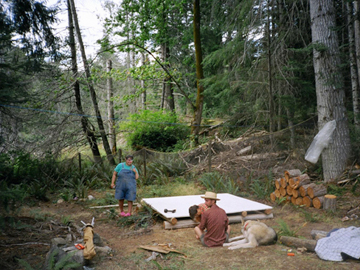 LEFT TO RIGHT: Chris Bearchell, Konnie Reich, David Duggan and Mel build a tent platform at Camp Swampy. PHOTO: Summer 2005