RIGHTS GROUPS
International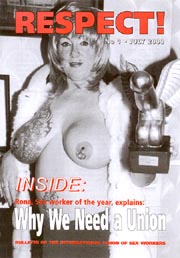 2nd World Whores' Congress, Brussels, 1986
PHOTO: Courtesy Gail Pheterson
Sex Work Allies & Advocates (International)
Africa
Sex Worker Education & Advocacy Taskforce (SWEAT) — Located in Cape Town, SWEAT is the only sex worker organisation promoting health and human rights to sex workers in South Africa.
www.sweat.org.za
Sex Work Alliance of Nigeria (SWAN)
38 Awolowo Street
G.P.O. Box 592
Umuahia, Abia State, Nigeria.
Tel/fax: 234-88-222637
Email: sexworknigeria@onebox.com
Asia
Australia
Scarlet Alliance (outside link)
Full list of Scarlet Alliance members
South Australian Sex Industry Network (outside link) located in Adelaide. SIN is run by sex workers for sex workers and provides information, referral and support on legal, health, HIV and STD prevention, financial and employment issues. SIN and friends are also pressuring for progressive prostitution law reform in South Australia which at present has some of the most repressive laws in the whole of Australia.
Sex Workers Outreach Project (SWOP) (outside link) Provides information and support for all workers in the sex industry; female, male or transgender, in New South Wales, Australia.

PO Box 1453, Surry Hills
NSW 1300, Australia
Tel: +612 9319 4866
Fax: +612 9310 4262
Free call in NSW outside Sydney metro area: 1 800 622 902
Email: infoswop@acon.org.au
Web: www.swop.org.au



Prostitutes Collective of Victoria (PCV): (Now called Rhed) Australia
Red Light Radio: 5UV (531 AM)
Monday nights 10 to 11 pm. A weekly radio show run by sex industry professionals. Produced by PJ Rose and the Red Light Collective. A Project of SIN and PASA.
Sex Work Allies & Advocates (Australia)
Phoenix, which is a government funded project of FPWAÊgiving support and peer based education to the sex industry in WA.

Workers In Sex Employment (WISE): Peer education and support to sex workers and their clients, ACT, Australia.


WISE
PO Box 67
Braddon, ACT 2601
Australia
Tel: 02 6247-3443
Fax: 02 6247 3446
Email: sera@spirit.com.au
Canada
Sex worker groups
La Coalition pour les Droites des Travailleuses et Travailleurs du Sexe (Coalition for the Rights of Sex Workers). Sex workers group in Montréal. Lobbies for the legal recognition of sex work.
Montréal, Québec
Tel: +1 (514) 844-3207 ext. 3
Web: www.trsx.org
Canadian Organization for the Rights of Prostitutes (CORP) was founded in 1983 in Toronto, when Peggie Miller hooked up with a people who organizing against the bawdy house laws following the Toronto gay bathhouse raids. Peggie had been busted for keeping a common bawdy house when she unwittingly picked up a cop from the stroll and took him back to her place. She pleaded "not guilty" but lost in court. Original CORP members included Peggie Miller, Chris Bearchell, Gwendolyn and Danny Cockerline.
Exotic Dancers Alliance in Canada. (outside link) Publishes The Naked Truth — "an information resource for the exotic dancers' community."

200 - 360 Bloor St. W.
Toronto, ON M5S 1X1
Tel: +1 (416) 410-2958
Toll-free: 1-877-228-8666
Fax: +1 (416) 961-6529
Email: eda@exoticdancerscanada.com



London Alliance to Support Sex Trade (LASST)
London, Ontario
Email: sbollman@home.com

Maggie's, the Toronto Prostitutes' Community Service Project — Peggie Miller of CORP also realized that the difficulties sex workers endure because the trade is illegal get in the way of sex workers getting organized. That's where the idea for the resource centre and self-help project, Maggie's, came from. Peggie persuaded Chris Bearchell to help recruit the first board, which began meeting September 5, 1986. Maggie's adopted the Prostitutes Safe Sex Project, CORP's AIDS education project founded by Danny Cockerline.
Stella: Vivre et travailler en sécurité et avec dignité. Health and legal resource centre for sex workers Montreal. Sex workers are on the board and staff. Publishes ConStellation newsletter by and for sex workers.
Web: www.chezstella.org
The Sex Workers' Alliance of Halifax (SWAH) Founded in 1995 by Irene Grenkow.
The Sex Workers' Alliance of Niagara (SWAN) Founded in 1997 by Linda Cormier.


The Sex Workers' Alliance of Toronto (SWAT) was founded April 6, 1992 by eight people who got together and discussed the current events that effected their work places, and brainstormed ideas on how to improve the situation. After a long meeting they planned another four meetings and put out a call for members.
The Sex Workers Alliance of Vancouver (SWAV) was founded in 1994 in response to a "Shame the Johns" campaign in the Mount Pleasant neighbourthood. SWAV aims to fight for sex workers' rights to fair wages and working conditions that are safe, clean and healthy.
Sex Work Allies & Advocates (Canada)



Central America

Sex worker groups

PHOTO: Alain Nogues-Sygma

A church in Lyon is the site of a sit-in. Prostitutes, protesting laws under which they were repeatedly jailed, fined and taxed, staged similar protests in other cities throughout France in 1975.
Funk & Wagnalls New Encyclopedia 1976 Yearbook. Leon L. Bram, Vice President and Editorial Director. Albert Bennett, Ed. Copyright © Funk & Wagnalls, Inc., New York 1976. p. 166.
Europe
Sex worker groups
Aspasie: Geneva Pour toutes les personnes prostituées ou concernées par la prostitution. (Outside link.)

Rue Charles Cusin
10 - 1201 Genève
Tel: 732.68.28
Fax: 731.02.46
CCP: 12-25609-3



Cabiria, France: Action Santé Communautaire avec les Personnes Prostituées.
Hydra, Germany: Since 1980, prostitutes and non-prositutes have been working together in this project. The main aim is to put an end to the social and legal discrimination of prostitutes and to get prostitution recognized as a profession. (Outside link.)

HYDRA e.V.
Köpenicker Str. 187-188
D-10997 Berlin
Tel: 030 / 611 00 23
Fax: 030 / 611 00 21
Email: hydra@ipn-b.de



Madonna eV, Germany: Beratung und Hilfe für Prostituierte. (Outside link.)
Maiz, Austria: Autonomes Integrationszentrum von & für Migrantinnen (Outside link.)
The Red Thread, The Netherlands: Werk je in de prostitutie of heb je dat gedaan? Dan ben je hier op het juiste adres: De Rode Draad is een landelijke organisatie die de belangen van (ex)- prostituees behartigt.
Sex Work Allies & Advocates (Europe)
India
Durbar Mahila Samanwaya Committee (DMSC): A forum exclusively of sex workers and their children. In July 1995, a group of sex workers from Sonagachi, one of the oldest and largest red-light areas of Calcutta, had set up DMSC to create solidarity and collective strength among a larger community of sex workers.

PHOTO: Rafiqur Rahman/Reuters

Prostitutes at Tanbazar brothel in the town of Narayanganj in Bangladesh — near the capital, Dhaka — chant while protesting a move to evict them yesterday. About 3,500 Bangladeshi prostitutes dug in their heels and defied eviction from one of the country's oldest and largest brothels.
National Post, Monday, July 12, 1999, p. A13.
New Zealand
New Zealand Prostitutes Collective (NZPC): An organisation of current and past sex industry workers that seeks an environment that supports the rights of sex industry workers. NZPC lobbies for the repeal of prostitution laws in accordance with the models of decriminalisation.

National Office
PO Box 11-412
Wellington, NZ
Tel: +64-4-382-8791
Fax: +64-4-801-5690
Email: pcdp@globe.co.nz
United States
Sex Workers Groups
Blackstockings: A sex workers' activism group in Seattle. Publishes a newsletter, runs a support/discussion group for sex worker women, and collates and disseminates information about local resources. (Outside link.)
Call Off Your Old Tired Ethics (COYOTE) with chapters in San Francisco, Los Angeles and Boston. COYOTE was founded by Margo St. James in 1973 to work for the repeal of the prostitution laws and an end to the stigma associated with sexual work.
Hooking Is Real Employment (HIRE) in Atlanta, Georgia founded by Dolores French (author of Working).
Prostitutes' Education Network (PENet): a website based in San Francisco. (Outside link.)
Prostitutes Of New York (PONY) is a support and advocacy group for all people in the sex industry. We welcome all current or former sex workers, including male, female or TS/TV prostitutes, erotic dancers, nude models, X-rated actors, peep show performers, phone sex workers, S&M/B&D professionals, strippers, madams, and so on.
Hook Online: Non-Profit Project For Men in the Sex Industry. (Outside link.)
Exotic Dancer's Alliance, San Francisco: Because everyone deserves fair working conditions, even Live! Nude! Girls! (Outside link.)
Danzine: A Portland-based non-profit created by and for sex workers and those who love us (don't we all?). We share the resources we need to make informed personal and professional decisions. (Outside link.)
Meretrix Online: Sex work activism and erotic writing for discerning adults. (Outside link.)
Sex Workers Outreach Project USA — Sex Workers Outreach Project (SWOP) focuses on safety, dignity, diversity and the changing needs of sex industry workers, to foster an environment which enables and affirms individual choices and occupational rights. (Outside link.)
EscortSupport.com: Sex worker magazine meets Family Circle and Vanity Fair,ä explains Ms. Lisa, creator and publisher of Escortsupport.com. "Sex worker veterans, like Annie Sprinkle, really dig the concept and have contributed content. The support from everyone has been amazing." (Outside link.)
Sex Workers Project — Mission is to advocate for sex workers, former sex workers, and those who are profiled or at risk for engaging in sex work, including victims of human trafficking, within a context of harm reduction and human rights. (Outside link.)
The National Transgender Advocacy Coalition (NTAC): (Outside link.)
Sex Work Allies & Advocates (U.S.)